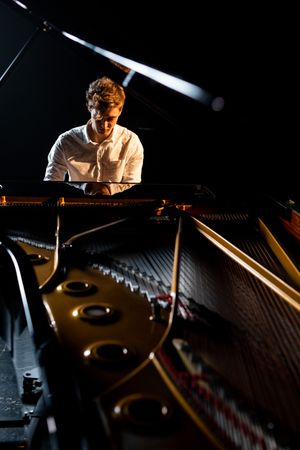 Mr. Ben McGarvey BA ARSM 
Phone: 07999 512033  
Email: benjmcgarvey@gmail.com 
Lessons Available Exclusively Online 
Ben is a recent graduate from the Royal Conservatoire of Scotland and recipient of The Leathersellers' Company Scholarship, and the Thomas Devlin Fund Bursary for contribution to performing arts in Belfast.   
 Prior to this Ben has always been involved with music - employed to play piano in Cafe, at Church, festivals, in school and taught private lessons. Ben has recently finished a show run in Edinburgh Fringe being lead band member, playing piano and guitar, which received 5-star reviews.  He was taught classical piano to Diploma level for 10 years, under Stuart Beattie who is now an established Trinity examiner. Under his supervision he was entered into Ballymena music festival for 2 consecutive years, 2017 and 2018. Placing first (three times) in both solo and duet categories.  He has also branched off into other various styles under supervision of Neil Shaw - musical director of Les Misérables West End, Jersey Boys West End and many more.   
Whilst sharing his music and love for performing he has a natural gift in teaching. He is devoted to his students and works passionately, each lesson tailored to the students' needs, with all styles of classical, jazz, pop and much more.  Ben encourages his students who want to take graded exams at MusicFirst NI to do so. Establishing a core foundation in your playing through grades, can be rewarding.   
His lessons include    
·Extensive work on how to approach the piano from beginners to advanced level.   
·Basic Posture and performance technique.   
·How to approach a piece in sightreading and score knowledge.   
·Key tips in engaging with musical phrasing – bringing the piece alive!   
·Theory and how it relates to the piano    
·Exploring what styles, you like to play