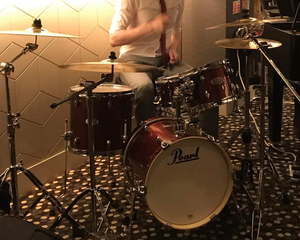 Mr Matty Irvine (Drums & Percussion)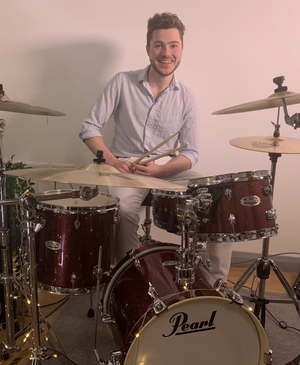 Mr. Matty Irvine BMus (Hons)
Phone: 07849 230912
Email: mattyirvinemusic@gmail.com
In-studio Lessons offered on Tuesday & Wednesday 

Matty has been involved with music his entire life, with his first solo performance at the age of three, singing at the Donaghadee festival. His love for music only grew stronger over the years, picking up the basics of several instruments by ear, before finding his main passion: the Drum Kit.
Starting in 2010 at the age of eleven, Matty began learning the drum kit, and two years later received a distinction in his Grade 5 Rockschool Exam, and later went on to receive a distinction in his Grade 8 Exam too. During his time at secondary school, Matty was percussionist and drummer for several of the school's orchestral ensembles, as well as playing drum kit for the school Big Band, regularly playing shows across the country.
During his early teenage years, Matty also discovered a passion for Music Production, and Songwriting. Exploring these passions, coupled with his ability as a multi-instrumentalist, has led to him developing a deep understanding of music, and how every element relates to each other - something which has greatly inspired his holistic approach to teaching, writing, and performing with the drum kit.
In 2020, Matty graduated with a First Class Honours BA Music Performance degree from Queen's University. His studies covered a wide breadth of areas, including Performance, Improvisation, Composition, Audio Recording and Production, Songwriting, Music Theory, and Film Composition. During this time, he studied drum kit under the tutelage of two renowned local drummers (Conor McAuley and Steve Davis), with whom he studied jazz drumming.
Matty has played in several different bands across a wide variety of styles, from heavy metal bands such as Thunderwolf, rock and indie bands such as Well Overdue, to pop and jazz bands such as The French Martinis. With these ensembles, Matty has performed in gigs all across the country, including at venues such as Limelight and the Black Box, and has recorded, produced and drummed on music that has been played on radio stations such as BBC Radio Ulster, and Blast FM.
As a solo artist, Matty has experience composing and producing music for several short films made across the UK, as well as writing a song for an English feature film, being released later this year. He regularly works as a session musician, gigging across Northern Ireland, and has recorded and produced music for several other local artists.
With experience in many areas of making music, Matty has developed a deep and unique understanding of the subject, and this is reflected heavily in his approach to his drumming, and to his teaching. Welcoming creativity with open arms whilst working towards and understanding the context of the music, is at the heart of his approach. His passion for exploring music guides his lessons, and he finds great pride in helping his pupils explore too.
MusicFirst NI (Charity No. NIC104806) 46 Botanic Ave, Belfast BT7 1JR