Ms. Sarah Ponsonby (Piano & Violin/Fiddle)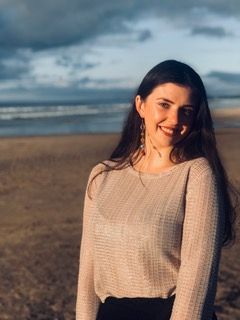 Ms. Sarah Ponsonby BMus (Hons) DipLCM 
Phone: 07727 489398 
Email: sarahp97@hotmail.com 
Virtual Lessons offered via Zoom
Music and performing has always been at the epicenter of Sarah's life. Starting from a young age of 5 learning piano and violin, Sarah has always had a clear vision of a career in music performance, composition and teaching. As her interest and skill progressed throughout her early teen years, Sarah achieved DipLCM in Piano Performance and a Senior Certificate Qualification in Violin from the Irish Academy of Music at age at 17. Having always been interested in ensemble playing too, Sarah played extensively with various musicians and ensembles in her home county of Donegal, i.e. The Donegal Chamber Orchestra. Having a rich musical background of Irish culture, language and music in her family and in her home county, Sarah's musical interest widened as she discovered Irish Traditional Music. 
Looking at Sarah's experience in Irish traditional music performance and composition, she has had ample opportunity to learn from and play with renowned fiddle players throughout the years, such as Martin Mc Ginley, Liz Kane, Gerry O 'Connor and Bríd Harper, where she was deeply influenced by their regional style and furthered used this to develop her own unique style of playing and composing 'tunes'. Sarah has also taught beginner's fiddle at the Irish Summer School of Music Ceol na Coille for two consecutive summers. 
She has since then performed in many sessions, album launches and concerts with various musicians, and composed many tunes and arranged some 'standard' tunes for fiddle and piano. She has also had the privilege of playing traditional Irish fiddle on three albums, one by Kate O 'Callaghan, a singer songwriter from Inishowen, the other by Ted Ponsonby and Errol Walsh, duo of voice and guitar/dobro from Co. Donegal also, and finally, by Ted Ponsonby and Sarah Ponsonby, Brakin' Trad, an album herself and her father recorded during the coronavirus pandemic 2020.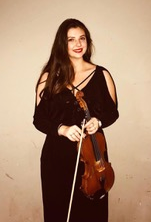 Composing and performing music in both the Western Classical and Irish Traditional genres, alone and with her father over the years, Sarah decided to pursue a Bachelor of Music degree at Queen's University Belfast. With modules in Composition, Arranging and Orchestration under the tutorship of Dr Simon Mawhinney and Professor Piers Hellawell, Irish Traditional Music taught by Dr Conor Caldwell and several variations of Performance modules, Sarah expanded her skill set, and furthered her understanding of what it means to be a composer and a performer. 
In addition, Sarah took part in many ensembles during her time at Queen's, including; Queen's University Symphony Orchestra (co-leader), The Elmwood Chamber Orchestra, Queen's Music Society Choir, Queen's Chamber Choir and The Irish Traditional Music group. During her time in undergraduate education, Sarah also gained a lot of teaching experience as she worked voluntarily at the Junior Academy of Music at Queen's for two consecutive years, as well as teaching piano at ENACT Music for several months in her second year of study. In July 2019, Sarah graduated with a Second Class Honours, First Division Bachelor of Music degree. After six months abroad, Sarah decided to return to Ireland to pursue a Master of Research at Queen's University Belfast commencing in September 2020. 
Sarah is an enthusiastic, friendly teacher who strives to nurture each student for their uniqueness and individuality in every lesson.
She aims to put the student's musical education and enjoyment of the instrument and subject at the fore-front of her teaching.