Evening Masterclasses (from age 16 to Semi-Pro)
Directed by: Becca Hopkins BMus (Hons) ATCL
Classical soprano and extended vocalist with a 4 octave range known for performing a variety of repertoire from contemporary opera to soul with the NI Soul Troop, trip-hop with Decomposing in Paris, and Christian pop with Redemption Arc. Hot Press Magazine called her a "Born Star," and Phil Taggart of BBC Radio 1 observed that she is "vocally way out there, head of the pack". She is now continuing to advance under the personal coaching of Brett Manning, and over this 5 week course,  Becca will give you the tools you need and help you establish routines to excel as a vocal artist.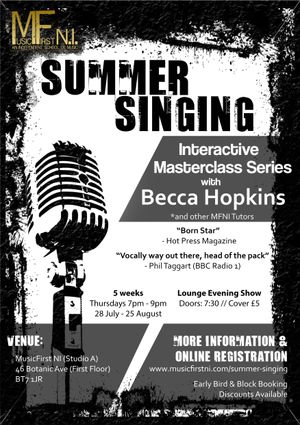 Sign-up now if you want: 
*Personalised 1-2-1 attention (or to observe and contribute to a 1-2-1 session)  
*To achieve more volume and power as well as a clarity in softer tones   
*To discover subtleties essential to defining a personal style | 
*To explore the art of affective performance  
*To establish effective practice routines for continued development  
...plus gain a big confidence boost knowing "you've got all the notes!"
Who, When, and Where...
Who:
Experienced Singers
   *Working towards grades
   *Gigging (or looking to start)
   *Part of a Choir / Church Group /
       Theatre Troupe, Etc.
   *Past experience and looking to "Bone-Up"
 When:
Thursday Evenings 7:00 - 9:00pm
     1) 28 July: Expanding Vocal Range
     2) 4 August: Stamina (Fighting Vocal Fatigue)
     3) 11 August: Volume Control
        (Expanding Dynamic Range)
     4) 18 August: Personal Style
     5) 25 August: Masterful Performance
 Where:   
MusicFirst NI: Studio A   
46 Botanic Avenue (First Floor)   
Belfast   BT7 1JR 
Concert: 
Lounge Evenings by MusicFirst NI presents Summer Singers 
MFNI Studio A 
Doors: 7:30pm // Cover: £5 (BYO)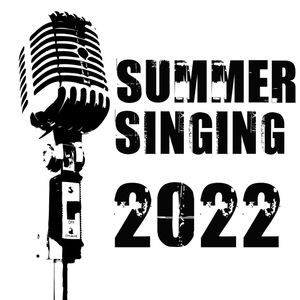 Reviews:
...I went to Music First NI for singing lessons with Becca and through her wealth of knowledge and experience in this field I can safely say that my voice has improved greatly and to actually hear a vocal coach who is also capable of demonstrating what you need to be able to do, it is a great help in improving my range and strength. It has also helped me with my self confidence and I am now part of a gospel choir and enjoy every moment singing on stage and performing. I would highly recommend going to Music First NI...
- Ryan Hiller (Belfast Community Gospel Choir) 
I have had singing lessons with Becca for a number of years now. What began as something to improve my confidence, soon developed into me achieving a lifetime goal by obtaining a distinction in my Grade 8. Becca is an excellent teacher, has a wealth of personal experience, and truly understands the mechanics of the voice. Her warm, bubbly nature helped me to relax from day 1, and the difference in my voice and level of confidence is unbelievable. Highly recommend this school for anyone wanting to improve their skills!!
- Cheryl Weston (Belfast Operatic Society)
Registration Form
*Registration can only be processed with full payment (see below)
Payment
*Registration can only be processed with full payment (see below)
*Should any workshop not meet the minimum registrations, it will be cancelled and a full refund given